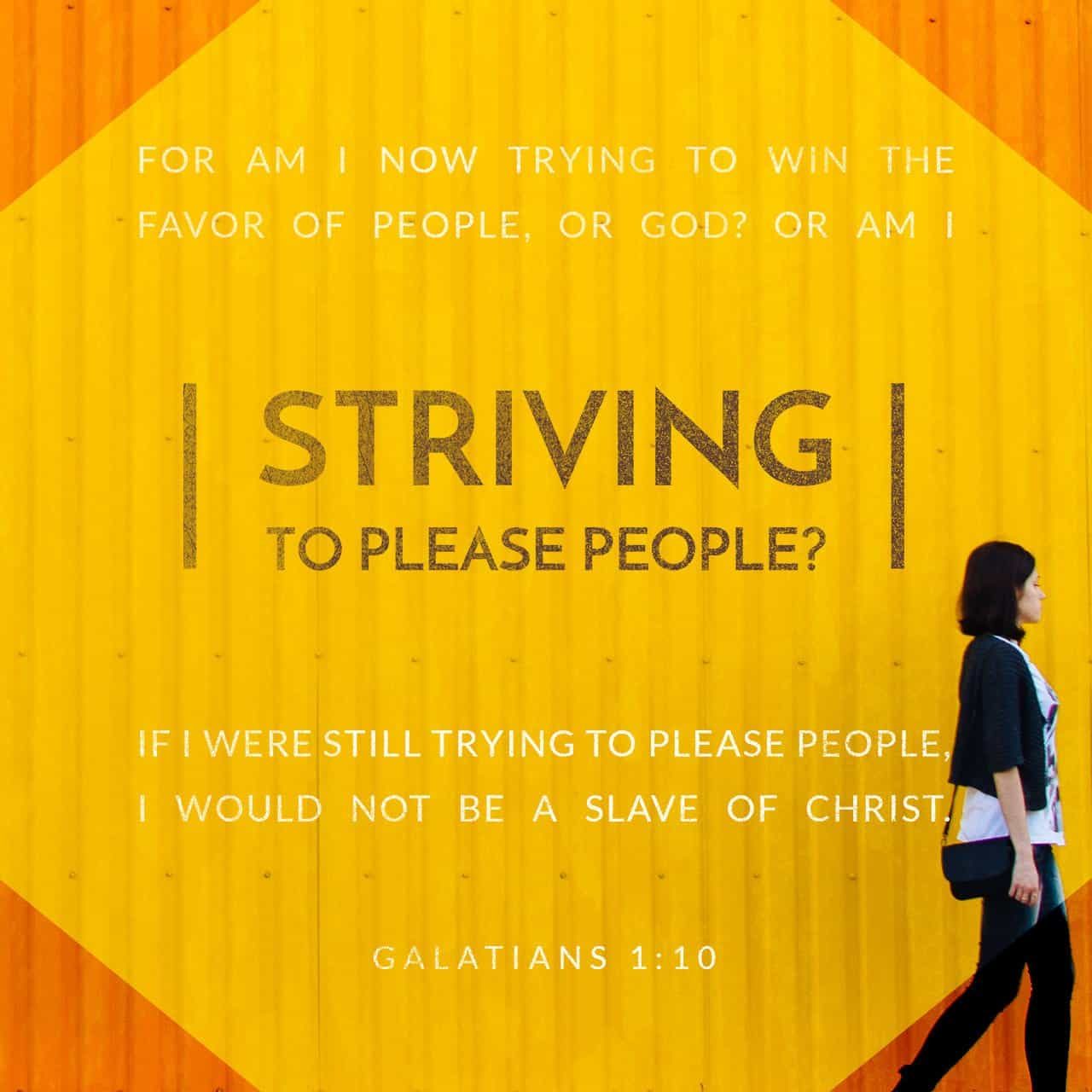 For do I now persuade men, or God? Or do I seek to please men? For if I still pleased men, I would not be a bondservant of Christ.
Galatians 1:10 (NKJV)
Who are you trying to please?
Is it your parents?
Is it your siblings?
Is it your spouse or children?
Is it your boyfriend/girlfriend and/or their parents?
Is it your peers or colleagues?
Is it your boss?
Is it your friends?
Is it your neighbours?
If you're constantly trying to please (or impress) one or more of the people I have listed above, if you are desperate for their validation or praise of your efforts/achievements, how has that been working out for you?
I'd imagine it's pretty tiring, not to mention impossible to pull off!
Even if you are satisfied with what you've done/accomplished and pleased by or proud of your own efforts, it's often not good enough for those you're trying to please/impress.
It's far worse when they have placed an expectation or created a requirement that you please/impress them!
If this is you, I certainly don't envy the miserable life you're living.
Who should you be trying to please?
People are fickle, imperfect and impossible to please.
A lifetime pursuit of "people pleasing" will leave you tired, joyless and empty.
I don't try to please or impress anybody BUT nor does that mean that I don't give/do my best in whatever I'm involved in.
I give my all in everything because that is a form of worship that I offer to the LORD my God.
Not only is it impossible to impress God because He is God, it's also impossible to please God without God's help!
I can rest easy knowing that I'm loved by God and there's nothing I could do to add to God's love for and acceptance of me – all because of Jesus and my faith in Him!
Even if people are not impressed by me, I know that the God who created me, loves me and because I'm constantly relying on Him/His Spirit to live a life that honours Him, He is pleased with me!
Oh what a joy and relief it is to know that I don't have to impress/please people and that my overall well-being isn't tied to or dependent on the approval of others.
Want to break free from "people pleasing"?
Humble yourself before God.
Seek Jesus genuinely.
Let God's love wash over you.
If you're not sure what all of this means but would like to know/learn more, please feel free to ask me.
For what profit is it to a man if he gains the whole world, and loses his own soul? Or what will a man give in exchange for his soul?

Matthew 16:26 (NKJV)
Even if you're successful (a ludicrous notion) in pleasing everybody, does it really matter if you ended up losing your soul in the process?
I pray the LORD will reveal Jesus to you and the joy and freedom that can only be found in Christ.
God bless you!
Thank Sri 🙂