I was working away this morning when I got a notification on my Lumia 930. It was a friend of mine (who shall remain anonymous) from America.
Started off as any normal conversation would except for the few lines that followed right after.
I have grabbed a screenshot of the same from my Facebook page (see below).
Though I fell for the "hey", everything else after that was a dead giveaway that something wasn't right.
If you notice, my friend was either made aware of the issue (by someone else) or found out something had happened and warned me but you can't tell the scam message and my friend's warning apart, except for the content of course.
Keep an eye out for this because I suspect the scammers will get smarter and less sloppy in the future.
Don't click on any links just because a friend messaged or emailed it to you.
Contact them separately, call them if you have to, just to verify.
Often, the links themselves are weird/funky, so that should raise alarm bells.
A little bit of caution can save you a lot of headache/heartache.
Keep your eyes open and don't go clicking away without thinking twice!
Thanks for reading.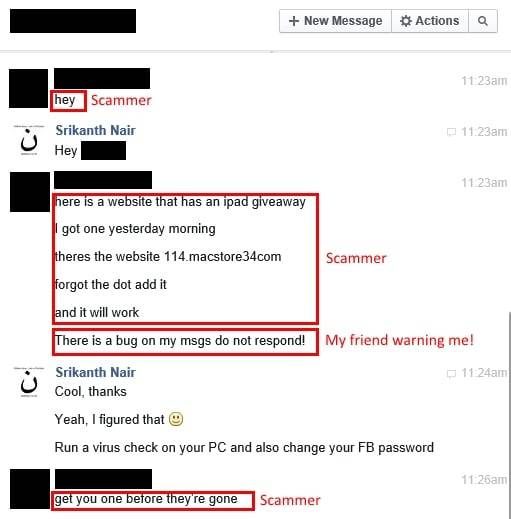 Thank Sri 🙂